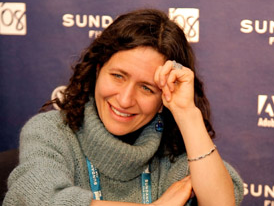 At the 81st Academy Awards Ceremony on February 22, 2009, Director Megan Mylan won an Oscar for Best Documentary Short Subject for her documentary Smile Pinki (2008). In her acceptance speech, she noted:
"Documentary, like all filmmaking, is a complete team sport, and I'd like to thank my editor Purcell Carson…and from HBO Sheila Nevins and Lisa Heller."
Her remark resonated with many in the Department of Communication Arts because Lisa Heller graduated from UW-Madison in 1990 with a major in Communication Arts. Currently, Lisa is Vice President of Original Programming at Home Box Office. Her producing credits are numerous and regularly appear on various productions that air on HBO.
Prior to joining HBO, Lisa worked as executive producer on the critically acclaimed PBS series P.O.V. (1988), where she was responsible for all programming as well as broadcast-related initiatives to expand the role of independent documentaries in public life.
Congratulations to Lisa Heller for another accolade in her impressive career!