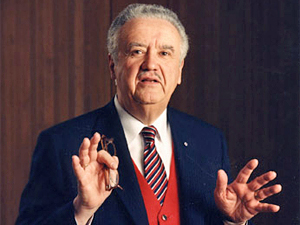 Former Wisconsin governor Lee Sherman Dreyfus passed away on January 2 at age 81. He is well remembered by Wisconsinites as an enlightened political leader (he signed the state's 1982 gay rights legislation), a successful grassroots campaigner, and a flamboyant public figure sporting a distinctive red vest. Those of us in Communication Arts are proud to recall Governor Dreyfus's special connection to the Department and the University.
Lee Dreyfus earned his BA ('49), MA ('52), and PhD ('57) degrees at UW in the Department of Speech, the earlier incarnation of what is now Communication Arts. After completing his studies he launched successful parallel careers in higher education and broadcasting, teaching at Wayne State University while working in public broadcasting. He combined those interests when he returned to the UW-Madison Speech Department as a Professor of Speech and Educational Television (1962-67). A popular and dynamic lecturer, Professor Lee Dreyfus taught in areas ranging from public speaking to television studies. He pioneered forms of distance education, including an intercontinental classroom exchange between the US and Europe using early satellite technology. He also served as general manager of WHA-TV and was an effective public advocate on behalf of educational television.
He left the Department to take over the leadership of UW-Stevens Point, and, as is well known, eventually launched his maverick political career, leading to the governorship. The Department is honored by its connection to one of Wisconsin's leading public citizens.