Leah Steuer
Media and Cultural Studies
Teaching Assistant
she/her/hers
2153 Vilas Hall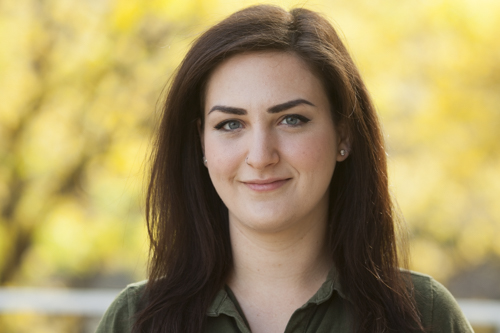 Office Hours:
Thursday 12:00 PM – 2:00 PM
Expertise and Activities
Leah Steuer is a PhD candidate in Media & Cultural Studies. She focuses on the body's role in media reception, exploring how TV audiences engage with sensation, touch, and emotion during everyday viewing. She is interested in affective approaches to spectatorship, accessibility, fandom, and sound. Recent projects include:
Vision-impaired audiences: audio description and affective access
Food re-creation as fannish consumption
ASMR culture on YouTube
Television re-watching and emotional regulation
She is the editor-in-chief of Playback and has served as the editorial assistant for the International Journal of Cultural Studies.
Courses
CA 250: Survey of Contemporary Media
CA 351: Television Industries
CA 451: Television Criticism
Honors/Awards
Peer Mentor Award, 2020 (Office of Diversity, Inclusion, and Funding)
Sharon Sites Award, 2018 (Department of Communication Arts)
Articles & Chapters
"Taste Culture: Fan Food as Sensorial Play and Pilgrimage." In Eating Fandom: Intersections Between Fans and Food Cultures, edited by CarrieLynn D. Reinhard, Bertha Chin, Julia E. Largent, 163-176. London & New York: Routledge, 2020.
"Structural Affects of Soap Opera Fan Correspondence, 1970s–80s." Transformative Works and Cultures, Vol. 30, 2019, doi:10.3983/twc.2019.1735.
Other Publications
Blog Posts
Service
Peabody Awards Screening Committee

Podcasts: 2019, 2020
Television: 2021

Freedom Inc community activism research team, 2020
Graduate Student Organization area rep, 2019-2020
Education
M.A. Cinema & Media Studies, UCLA, 2017
B.A. Pomona College, 2011