Leah Steuer
Media and Cultural Studies
Teaching Assistant
she/her/hers
608-263-2039
2153 Vilas Hall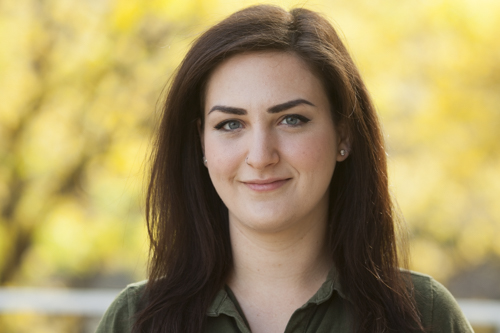 Expertise and Activities
Leah Steuer is a PhD candidate in Media & Cultural Studies. She focuses on embodied media reception, exploring how sensation, emotion, and materiality shapes our interpretation of texts. She is interested in affect theory, disability/accessibility, sound studies, and material fan cultures.
She is currently writing a dissertation on somatic reception, exploring various sensorial access points to TV/film spectatorship. The project includes research on:
Audience bodies and individualism within cultural studies
Food/nourishment and media consumption
Disability, perceptual difference, and affective access
Sexual expression and experience through fanworks
ASMR and body-centered media design
She is currently assisting Prof. Jonathan Gray with a project on streaming TV audiences. She has served as editor-in-chief of Playback and as the editorial assistant for the International Journal of Cultural Studies.
Courses
CA 100: Introduction to Speech Composition
CA 250: Survey of Contemporary Media
CA 351: Television Industries
CA 451: Television Criticism
Honors/Awards
Peer Mentor Award, 2020 (Office of Diversity, Inclusion, and Funding)
Sharon Sites Award, 2018 (Department of Communication Arts)
Peer-Reviewed Publications
"Taste Culture: Fan Food as Sensorial Play and Pilgrimage." In Eating Fandom: Intersections Between Fans and Food Cultures, edited by CarrieLynn D. Reinhard, Bertha Chin, Julia E. Largent, 163-176. London & New York: Routledge, 2020.
"Structural Affects of Soap Opera Fan Correspondence, 1970s–80s." Transformative Works and Cultures, Vol. 30, 2019, doi:10.3983/twc.2019.1735.
Scholarly Publications
Blog Posts
Service
Peabody Awards Screening Committee

Podcasts: 2019, 2020
Television: 2021

Freedom Inc community activism research team, 2020
Graduate Student Organization area rep, 2019-2020
Education
M.A. Cinema & Media Studies, UCLA, 2017
B.A. Pomona College, 2011