Amanda Shubert
English and Film Studies
Associate Lecturer
she/her/hers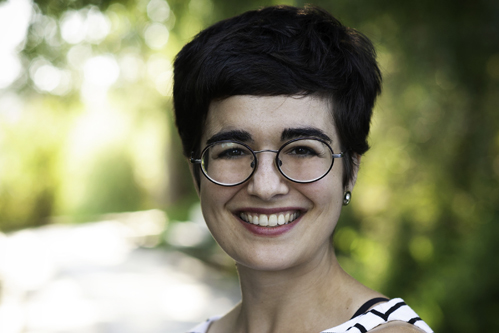 Current and Future Projects
A monograph titled Seeing Things: Virtual Aesthetics in Victorian Culture, which explores the emergence of virtual aesthetics in optical media, early film, and the novel in nineteenth-century Britain.
A film history project looking at how nineteenth-century optical media and stage magic informed the techniques and aesthetics of special effects in silent film.
A media history of the crystal cube miniature, an optical medium that pioneered autostereoscopic photography in the 1860s.
Expertise and Activities
I am an interdisciplinary scholar who teaches and writes about nineteenth- and twentieth-century literary, visual, and cinematic media. I am especially interested in the prehistory of cinema and the range of toys, instruments, and spectacular shows that cultivated a phenomenological and technological aesthetics based in visual illusion. My work focuses on the history, aesthetics, and politics of precinematic optical media culture, the archive of discourses surrounding these devices embodied in literary sources such as fiction and journalism, and the relationships between precinematic and cinematic media and modes of spectatorship. At present, I am at work on a book that explores Victorian fiction in relation to the emergence of cinema by focusing on the ways that Victorian novels imagined, conceptualized, and understood themselves through the virtual effects of precinematic optical media. I have also written and published essays on a late-eighteenth- and early-nineteenth-century magic show called the Phantasmagoria, gender and Victorian magic spectatorship, and the influence of precinematic spectacles on special effects in German cinema of the 1920s.
In addition to working in Communication Arts, I am an Associate Lecturer in the Department of English where I offer courses on topics such as nineteenth-century British fiction, race and empire in Victorian culture, and visual storytelling practices from comics to video games.
Education
Ph.D. English, University of Chicago, 2019
M.A. English, University of Chicago, 2014
B.A. English, Oberlin College, 2010
Honors/Awards
Franke Institute for the Humanities Dissertation Fellowship, University of Chicago, 2018
Wayne Booth Prize for Excellence in Teaching, University of Chicago, 2018
Walter Arnstein Prize for Dissertation Research in Victorian Studies, Midwest Victorian Studies Association, 2017
Nicholson Graduate Fellowship for Research in British Isles, University of Chicago, 2017 and 2016
Dissertation Proposal Development Fellowship, Social Science Research Council, 2016
Articles
"'To Become a Devil': Special Effects, Magic Tricks, and the Technological Image in F.W. Murnau's Faust." Under review.
"In Defense of Credulous Women: Magic and Optical Spectatorship in Cranford." Under review.
"'A Bright Continuous Flow': Phantasmagoria in A Tale of Two Cities." Victorian Literature and Culture, Vol. 48, No. 4 (Winter 2020).
Book Chapters
"The Ghost of Pauline Kael." Talking About Pauline Kael, ed. Wayne Stengel (Rowman & Littlefield, 2015).
Courses
CA 313 – Global Cinema History
CA 613 – Special Effects Before Cinema: Technology, Magic, Illusion
ENGL 176 – Visual Storytelling (Topics in Literature and Film)