Irene Sarmiento
Communication Science
Dissertator
Off campus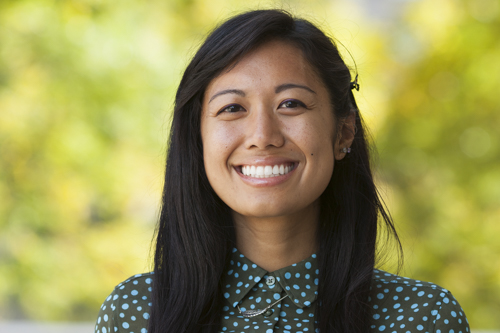 Expertise and Activities
My name is Irene Sarmiento, and I am a current Ph.D. candidate in Communication Science under the mentorship of Professor Lyn Van Swol. I received my Bachelor of Arts degree in Psychology with a minor in Applied Psychology, with honors, from the UC Santa Barbara in 2014. I received my Master's degree, with my thesis titled "The Effects of Attachment on Social Support and Post-Breakup Emotional Health," in Communication Arts from the UW-Madison in 2018. My research interests include interpersonal communication, specifically within the context of social media and relationships. From September 2016 to August 2018, I was one of the fellows for the UW-Madison Interdisciplinary Training grant within the Departments of Communication Arts and Educational Psychology, focusing on Social Media, Youth, and Assessment. I have collaborated with scholars in Educational Psychology at the UW-Madison, and I am currently collaborating with scholars in Life Science Communication at the UW-Madison. Beginning August 2019, I am an adjunct faculty member in the Department of Rhetoric and Communication Studies at the University of La Verne.
Publications:
Bonus, J.A., Peebles, A., Mares, M.L., & Sarmiento, I.G.(2017). Look on the bright side (of media effects): Pokémon Go as a catalyst for positive life experiences. Media Psychology.
Sarmiento, I. G., Olson, C., Yeo, G., Chen, Y. A., Toma, C. L., Brown, B. B.,… & Mares, M. L. (2018). How Does Social Media Use Relate to Adolescents' Internalizing Symptoms? Conclusions from a Systematic Narrative Review. Adolescent Research Review, 1-24.
Chung, J. H., Sarmiento, I. G., Van Swol, L. M., Shaw, B. R., Koshollek, A., & Ahn, P. H. (2020). Promoting reforestation to landowners: The role of advice-giving through information, efficacy, narrative, and identification in story telling. Journal of Forestry.
Updated: June 2020
Education
M.A. Communication Arts, University of Wisconsin-Madison, 2018
B.A. Psychology, University of California, Santa Barbara, 2014
Honors/Awards
Elliott Dissertation Scholarship, UW-Madison Department of Communication Arts, 2019
UW-Madison ITP Grant: Youth Development, Social Media, and Assessment, 2017
Helen K. Herman Memorial Fund Scholarship, UW-Madison Department of Communication Arts, 2017
UW-Madison ITP Grant: Youth Development, Social Media, and Assessment, 2016
Pearce Award, UW-Madison Department of Communication Arts, 2016
Distinction within the Psychology Major, UCSB Department of Psychological and Brain Sciences, 2014
Courses
Communication Arts 100: Introduction to Speech Composition
Communication Arts 272: Introduction to Interpersonal Communication
Communication Arts 565: Communication and Interethnic Behavior
Communication Arts 575: Decision-Making in Complex Organizations
Links