Alanna Peebles
Communication Science
Teaching Assistant
608-263-3996
6051 Vilas Hall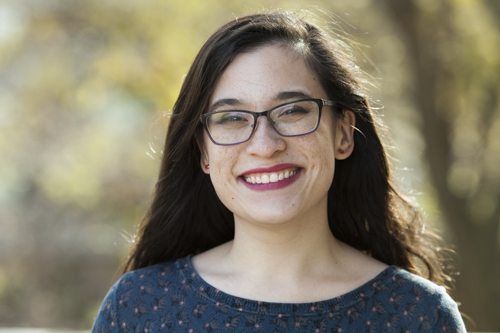 Office Hours:
Expertise and Activities
RESEARCH BIO & EXPERIENCE
My name is Alanna, and I am a current Ph.D. Candidate in Communication Science under the mentorship of Professor Marie-Louise Mares. My main interest revolves around how people — especially young children — can more positively interact with and benefit from media use. In particular, I'm interested in how individuals' cognitive and developmental states influence how they engage with stories on the screen. Starting June 2014, I became an Early Career Fellow of the Fred Rogers Center along with my former lab-mate, James Alex Bonus. We were the first researchers to be awarded this fellowship.
Publications:
Mares, M.L., Bonus, J.A., & Peebles, A.(2018). Love or comprehension? Exploring strategies for children's prosocial media. Communication Research.
Peebles, A.,Bonus, J.A., & Mares, M.L. (2018). Questions + answers+ agency: Interactive touchscreens and children's learning from a socio-emotional TV story. Computers in Human Behavior.
Riddle, K., Peebles, A., Davis, C., Xu, F., & Schroeder, E. (2017). The addictive potential of television binge watching: Comparing intentional and unintentional binges. Psychology of Popular Media Culture.
Bonus, J.A., Peebles, A., Mares, M.L., & Sarmiento, I.G. (2017). Look on the bright side (of media effects): Pokémon Go as a catalyst for positive life experiences. Media Psychology.
Martins, N., Mares, M.L., Malacane, M., & Peebles, A. (2016). Liked characters get a moral pass: Young viewers' evaluations of social and physical aggression in tween sitcoms. Communication Research, 0093650216644016.
Bonus, J.A., Peebles, A., & Riddle, K. (2015). The influence of violent video game enjoyment on hostile attributions. Computers in Human Behavior, 52, 472-483.
Mayer, R.E., Lee, H., & Peebles, A. (2014). Multimedia learning in a second language: A cognitive load perspective. Applied Cognitive Psychology, 28, 653-660.
PROFESSIONAL BIO & EXPERIENCE
Outside of my research conducted at UW-Madison, my professional experience focuses on fostering children's positive experiences both in and out of the classroom. I have held previous internships at Common Sense Media, Children Now, The Children's Discovery Museum of San José, and the psychophysiology lab at the University of California-San Francisco. Since 2017, I have been a regular volunteer and teacher's assistant at the University of Wisconsin-Madison Child Development Laboratory in classrooms with children aged 0-4.
Selected Professional Projects and Collaborations:
Last Updated: September 2018
Education
M.A. Communication Arts, University of Wisconsin – Madison, 2016
B.A. Psychology, University of California – Santa Barbara, 2013
Honors/Awards
Graduate Student Research Grant, Communication Arts Department, University of Wisconsin-Madison, 2018
Graduate Student Peer Mentor Award, Nominee, University of Wisconsin-Madison, 2018
University Fellowship, University of Wisconsin-Madison, 2017
Early Teaching Excellence Award, Nominee, University of Wisconsin-Madison, 2015
Graduate Research Fellowship Program, Honorable Mention, National Science Foundation, 2015
Co-Author on Top Paper, International Communication Association: Children, Adolescents, and Media Division, 2014
University Fellowship, University of Wisconsin-Madison, 2013
The Morgan Award for Research Promise in Psychology, University of California-Santa Barbara, 2013
Highest Honors, University of California-Santa Barbara, 2013
Summa cum laude / Mortar Board Award, University of California-Santa Barbara, 2013
Courses
CA 100 – Introduction to Speech Composition (Current Instructor, Spring 2019)
CA 272 – Introduction to Interpersonal Communication (Former T.A.)
CA 325 – Media and Human Behavior (Former T.A.)
CA 361 – Introduction to Quantitative Research Methods in Communication (Former Tutor)
CA 575 – Communication in Complex Organizations (Former Grader)
CA 616 – Mass Media and Youth (Former Grader)
PSY 202 – Introduction to Psychology (Former G.U.T.S. Tutor)
Links