Kelly Jensen
Rhetoric, Politics, and Culture
Fellow
she/her/hers
6067 Vilas Hall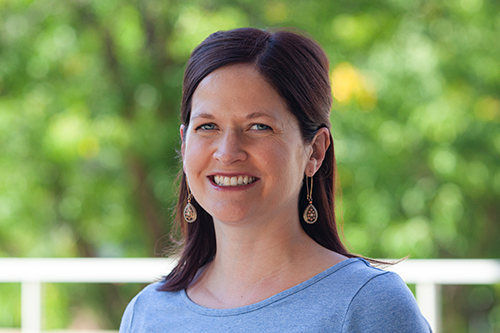 Office Hours:
Thursdays 10:15 am-12:15 pm
Kelly is a PhD candidate in the Rhetoric, Politics, & Culture program in the Department of Communication Arts at the University of Wisconsin Madison. She holds a BA in Communication Studies from Gustavus Adolphus College and an MA in Curriculum & Instruction from the University of Colorado Denver. Prior to graduate school, Kelly spent five years as a public school teacher in a bilingual 5th grade classroom in Denver, CO and two years as a research analyst at Denver-based foundation dedicated to improving educational outcomes for low-income children in Colorado. Her research considers how power dynamics empower and disempower the ways certain groups participate in the public sphere and how K-12 education discourses influence unequal systems of privilege.
Kelly's dissertation project "Positioned to Choose: Reckoning with Racial Privilege in Progressive White Parents' School Choice Discourse" explores the tensions in the ways well-intentioned, progressive white parents with nominal commitments to educational equity reckon with their unearned racial privilege within the U.S. K-12 education system. Based on fieldwork with white, politically progressive, socioeconomically advantaged parents of school-aged children, her project considers the rhetorical maneuvers white parents employ to rationalize their school choice decisions and grapple with their complicity in racialized systems of oppression.
Education
M.A. Communication Arts, University of Wisconsin Madison, 2019
M.A. Curriculum and Instruction, University of Colorado Denver, 2012
B.A. Communication Studies, Gustavus Adolphus College, 2010
Courses
CA 100 – Introduction to Speech Composition
CA 200 – Introduction to Digital Communication
CA 260 – Communication and Human Behavior
CA 262 – Argumentation and Debate
CA 370 – Great Speakers and Speeches
Publications
Kelly Jensen, "Localized Ideographs in Education Rhetoric: Polly Williams and a Justice-Driven Ideology of Choice," Quarterly Journal of Speech 107, no. 3 (2021): 305-327.
Sue Robinson, Kelly Jensen, and Carlos Dávalos, "'Listening Literacies' as Keys to Rebuilding Trust in Journalism: A Typology for a Changing News Audience," Journalism Studies 22, no. 9 (2021): 1219-1237.
Megan L. Zahay, Kelly Jensen, Yiping Xia, and Sue Robinson, "The Labor of Building Trust: Traditional and Engagement Discourses for Practicing Journalism in a Digital Age," Journalism and Mass Communication Quarterly (2020): 1-18.