Aaron Granat
he/him/his
608-265-4231
3159 Vilas Hall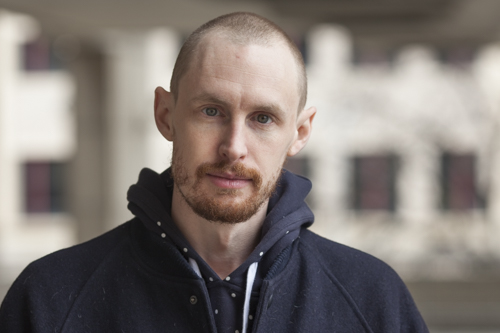 I am a media producer and video artist specializing in screen dance, multimedia performance, documentary, and narrative storytelling.  I have taught production courses for the UW Communication Arts Department for the last ten years, but I am currently working as a member of the support staff for the Com Arts Instructional Media Center facilitating equipment and media circulation. I am also staff videographer for the UW Division of the Arts.
Education
M.A. Communication Arts, Film Studies, University of Wisconsin,  2010
B.A. Communication Arts-Radio, TV, & Film, 2007
Honors, Awards, & Grants
Edna Wiechers Arts In Wisconsin Award, 2021
Honorary guest coach for UW Badgers football, Office of Academic Services, Fall 2019
University Housing Honored Instructor, University of Wisconsin, Spring 2017
Excellence Award honoring UW-Madison Faculty/Staff/Community who support First Wave Scholars' success, both inside and outside the classroom: The Office of Multicultural Arts Initiatives (OMAI)/First Wave, Division of Diversity, Equity, and Educational Achievement, Fall 2015
BLINK Grant, Madison Arts Commission, April 2014
Selected Filmography
MindStorm (2020), Multimedia Performance: Co-Producer, Co-director, Video Artist. March 6-7. MMSD Planetarium, Madison, WI.
From the Ashes (2019), Documentary, 18 min: Director, Cinematographer, Sound Recordist, Editor.
Video installation: "Phoenix from the Ashes." Playhouse Gallery, Overture Center of the Arts, Madison, WI. Sept. 6-Oct. 27.
Elemental (2017), Screen Dance, 5 min: Co-producer, Co-cinematographer, Co-editor, Sound Designer.
Festivals/Screenings:
2019 Migrations Dance Film Programme
2019 Wildwood Film Festival
2019 Green Bay Film Festival
2018 Capitol Dance & Cinema Festival
2018 Flatlands Dance Film Festival
2018 Portland Dance Film Fest
2018 Cascadia Dance & Cinema Festival
2018 Tiny Dance Film Festival
2018 Madison Municipal Building Grand Opening
2018 Rooftop Cinema at MMoCA
Awards
StandardVision Award for Artistic Merit, Dance Magazine Video of the Month Winner
Frames (2012), Narrative Feature, 90 min: Co-producer, Cinematographer, Colorist
Festivals
2012 Derby City Film Festival
2012 Wisconsin Film Festival
2012 Kansas International Film Festival
2012 Mt. Hood Independent Film Festival
Online Screenings
No Budge (February 2013)
NuHo Online Film Festival (February 2014)
L.A. Cine-Salon (May 2014)
Fandependent Films (September 2016)
Honors
2012 Award for Artistic Integrity (Mt. Hood Independent Film Fest)
2013 Best Feature Award (No Budge)
Over 4 million views on YouTube
Remade in India as Perceptions (2017, dir. Virinchi Virivinti)