Anthony Chen
Communication Science
Teaching Assistant
he/him/his
608-263-3996
6051 Vilas Hall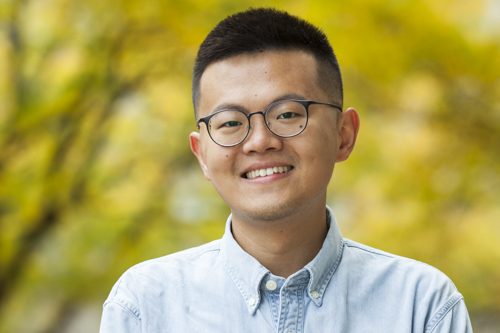 Expertise and Activities
I am a Ph.D. candidate in Communication Science.  My research interests center around the interpersonal and psychological processes in computer-mediated communication (CMC). Currently, I am working on projects looking into 1) the interpersonal aspect of CMC, asking when and why certain individuals prefer CMC over face-to-face (FtF) interactions within intimate relationships, and 2) the intrapersonal effects of CMC, how online self-presentations influence self-presenters offline.  Using quantitative research methods, I examine these questions among adolescents, young adults, international students, and the LGBTQ+ community.  By understanding the contextual, individual, and technological factors that underpin the social and psychological process of CMC, my goal is to make theoretical advancements in the field of communication science, and also inform the public to better integrate within today's mediated world. 
Education
M.A. in Communication Arts, University of Wisconsin-Madison, 2019
Articles
Chen, Y. A. & Lu, R. M. (2023). Texting or face-to-face for support-seeking in romantic relationships: The role of affordances and attachment. Journal of Social and Personal Relationships.  https://doi.org/10.1177/02654075231152910
Mares, M. L., Chen, Y. A., & Bond, B. J. (2023). Mutual socialization during shared media moments: US LGBTQ teens and their parents negotiate identity support. Journal of Communication. https://doi.org/10.1093/joc/jqac046
Geusens, F., Chen, Y. A.*, Kerr, B., & Moreno, M. A. (2022). Disentangling between-person level from within-person level relationships: How sharing alcohol references on Facebook and alcohol use are associated over time. Media Psychology. https://doi.org/10.1080/15213269.2022.2138443
Chen, Y. A., Fan, T.*, Toma, C. L., & Scherr, S. (2022). International students' psychosocial well-being and social media use at the onset of the COVID-19 pandemic: A latent profile analysis. Computers in Human Behavior. 137. https://doi.org/10.1016/j.chb.2022.107409
Chen, Y. A. & Zhang, Y. B. (2022). Parasocial relationship and reduction of intergroup prejudice against the Chinese LGBT community: Intergroup anxiety and direct contact. Communication Studies, 73(4), 397-411.  https://doi.org/10.1080/10510974.2022.2113415
Mares, M. L., Chen, Y. A., & Bond, B. J. (2021). Mutual influence in LGBTQ teens' use of media to socialize their parents. Media Psychology. 25(3), 441-468. https://doi.org/10.1080/15213269.2021.1969950
Toma, C. L., Chen, Y. A., Olson, C., Fan, T., & Brown, B. B. (2020). Youth social media use and well-being. In J. Van den Bulck, D. Ewoldsen, M. L. Mares, & E. Scharrer (Eds.), The international encyclopedia of media psychology. John Wiley and Sons, Inc.
Sarmiento, I. G., Olson, C., Yeo, G., Chen, Y. A., Toma, C. L., Brown, B. B., … & Mares, M. L. (2020). How does social media use relate to adolescents' internalizing symptoms? Conclusions from a systematic narrative review. Adolescent Research Review, 1-24. https://doi.org/10.1007/s40894-018-0095-2
Chen, Y. A. (2018). Media coverage and social changes: Examining valence of the portrayal of the LGBT community from 2000 to 2014 in two U.S. magazines. Intercultural Communication Studies, 27(1), 83-95.
* Equal contribution as the first author
Honors and Awards
2022 Graduate School Dissertation Fellowship, UW-Madison
2021 Elliot Dissertation Scholarship, UW-Madison
2020 Helen K. Herman Memorial Fund Scholarship, UW-Madison
2019 Charles Chester Pearce Scholarship, UW-Madison
2018-20 Network Fellow, School of Education, UW-Madison
2017-20 Interdisciplinary Training Program Fellowship, UW-Madison
Courses
CA345: Online Communication and Personal Relationships
CA361: Introduction to Quantitative Research in Communication
CA368: Theory and Practice of Persuation