Anthony Chen
Communication Science
Teaching Assistant
he/him/his
608-263-3996
6051 Vilas Hall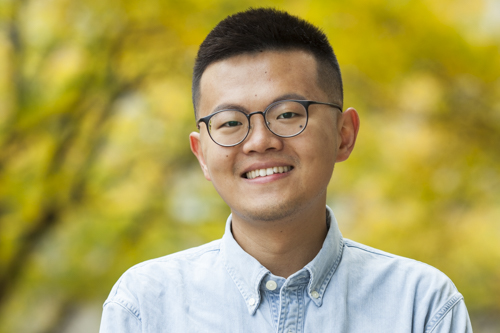 Expertise and Activities
I am a Ph.D. candidate in Communication Science.  My research interests center around the implications of media use on interpersonal and psychological processes.  Currently, I am working on projects looking into 1) the implications of interpersonal media (e.g., texting) on romantic relationships; 2) the effects of communication technologies on psychosocial well-being; 3) the role of media use on family dynamics and identity development.  Using quantitative research methods, I examine these questions among adolescents, young adults, international students, and the LGBTQ+ community.   
Education
M.A.in Communication Arts, University of Wisconsin-Madison, 2019
Articles
* Equal contribution as the first author
Chen, Y. A., Fan, T.*, Toma, C. L., & Scherr, S. (2022). International students' psychosocial well-being and social media use at the onset of the COVID-19 pandemic: A latent profile analysis. Computers in Human Behavior. 137. https://doi.org/10.1016/j.chb.2022.107409
Mares, M. L., Chen, Y. A., & Bond, B. J. (2021). Mutual influence in LGBTQ teens' use of media to socialize their parents. Media Psychology. 25(3), 441-468. https://doi.org/10.1080/15213269.2021.1969950
Toma, C. L., Chen, Y. A., Olson, C., Fan, T., & Brown, B. B. (2020). Youth social media use and well-being. In J. Van den Bulck (Eds.), The international encyclopedia of media psychology. Hoboken, NJ: John Wiley and Sons, Inc.
Sarmiento, I. G., Olson, C., Yeo, G., Chen, Y. A., Toma, C. L., Brown, B. B., … & Mares, M. L. (2020). How does social media use relate to adolescents' internalizing symptoms? Conclusions from a systematic narrative review. Adolescent Research Review, 1-24. https://doi.org/10.1007/s40894-018-0095-2
Chen, Y. A. (2018). Media coverage and social changes: Examining valence of the portrayal of the LGBT community from 2000 to 2014 in two U.S. magazines. Intercultural Communication Studies, 27(1), 83-95.